The Montgomery County Health Department is reporting cases to North Carolina Department of Health and Human Services. This data is updated daily and can be viewed by using the link below. This site represents the most up to date information available.
Updated COVID Guidelines can be found here. (1.7.22)
---
COVID-19 Testing
Free COVID test kits are available at the Montgomery County Department of Health Monday through Friday between the hours of 8:30 to 4:30 pm. (while supplies last)
---
COVID Vaccine Information

COVID-19 vaccines are available in North Carolina to everyone ages 5 and older. Montgomery County Department of Health is only providing the Moderna vaccine for those age 18 and older and the Pfizer vaccine for ages 5-11. .
Registration can be completed using the fillable form by using the link below. An email is required for the fillable form.
Moderna Vaccine (18+)
Fillable Online Form (English)
Fillable Online Form (Spanish)
Pfizer Vaccine (5-11)
Fillable Online Form (English)
Fillable Online Form (Spanish)
Moderna Vaccine (6 months to 5 years old)
Fillable Online Form (English)
OR
If you would like to register by phone, please call (910)572-1393. Calls will be answered as staff are available.
Phizer-BioNTech Vaccine
The Pfizer-BioNTech has received FDA approval for its two-dose vaccine.
According to the information on myspot.nc.gov the following locations have Pfizer vaccine:
CVS Pharmacy in Troy https://www.cvs.com/immunizations/covid-19-vaccine
Walgreens in Albemarle https://www.walgreens.com/findcare/vaccination/covid-19/location-screening
Stanly County Health Department, Albemarle https://stanlyhealth.com/
Stanly County common, Albemarle http://www.stanlydss.com/


SlowCOVIDNC Exposure Notification App
---

Check My Symptoms (www.ncdhhs.gov/symptoms)

A free tool from NCDHHS that allows you to enter your symptoms and determine if you should get tested for COVID-19.
Note: The symptom checker is an informational tool to help people determine if they may need to be tested; however it is not a physician order. Testing sites may require their own screening.

Find My Testing Place (www.ncdhhs.gov/TestingPlace)

A free website from NCDHHS that allows you to enter their ZIP code and access a list of nearby testing site locations.
---
Espanol: Recursos e Información acerca del COVID-19
---
---
Know Your Ws: Wear, Wash, Wait
If you leave home, practice your Ws: Wear, Wait, Wash
Wear a cloth face covering if you will be with other people
Wait 6 feet apart. Avoid close contact.
Wash your hands often with soap and water for at least 20 seconds or use hand sanitizer.
These actions can protect our families and neighbors as the state takes a cautious step forward to ease restrictions while the virus is still circulating.
More information from NCDHHS is available here.
---
COVID-19 Wellness Resources
NCDHHS has created a list of resources to help residents state wide maintain their overall health and wellness throughout the COVID-19 pandemic. View here for more information.
---
Telehealth in NC
The Montgomery County Department of Health is now offering telehealth services. To learn more or schedule an appointment, call (910) 572-1393.
Staying home does not mean ignoring your health. Telehealth allows people to get health care services using a computer, tablet, smart phone or other technology. All insurance companies in the state, including Medicaid and Medicare, are covering healthcare visits through telehealth.
Why Telehealth in COVID-19 (video)
More information on Telehealth and COVID-19
---
Sharing Accurate Information on Social Media
To be certain that you are seeing and sharing the most accurate COVID-19 information, please follow NCDHHS and the CDC. This information is reliable and can be shared easily to ensure that only reliable and accurate information is being spread.
Click here for more information on reliable COVID-19 updates.
---
People who have questions or concerns related to COVID-19 can call 866-462-3821 for more information. Press 1 for English or to ask for a language interpreter. Spanish speakers should press 2. To submit questions online, go to www.ncpoisoncontrol.org and select "Chat". You can also call 2-1-1 for more information.
Click here for more information on social distancing measures and terminology.
A Kid's Guide to COVID-19
---
Montgomery County Department of Health has created a COVID-19 flyer. See below, click here for a printable version, o aquí para español.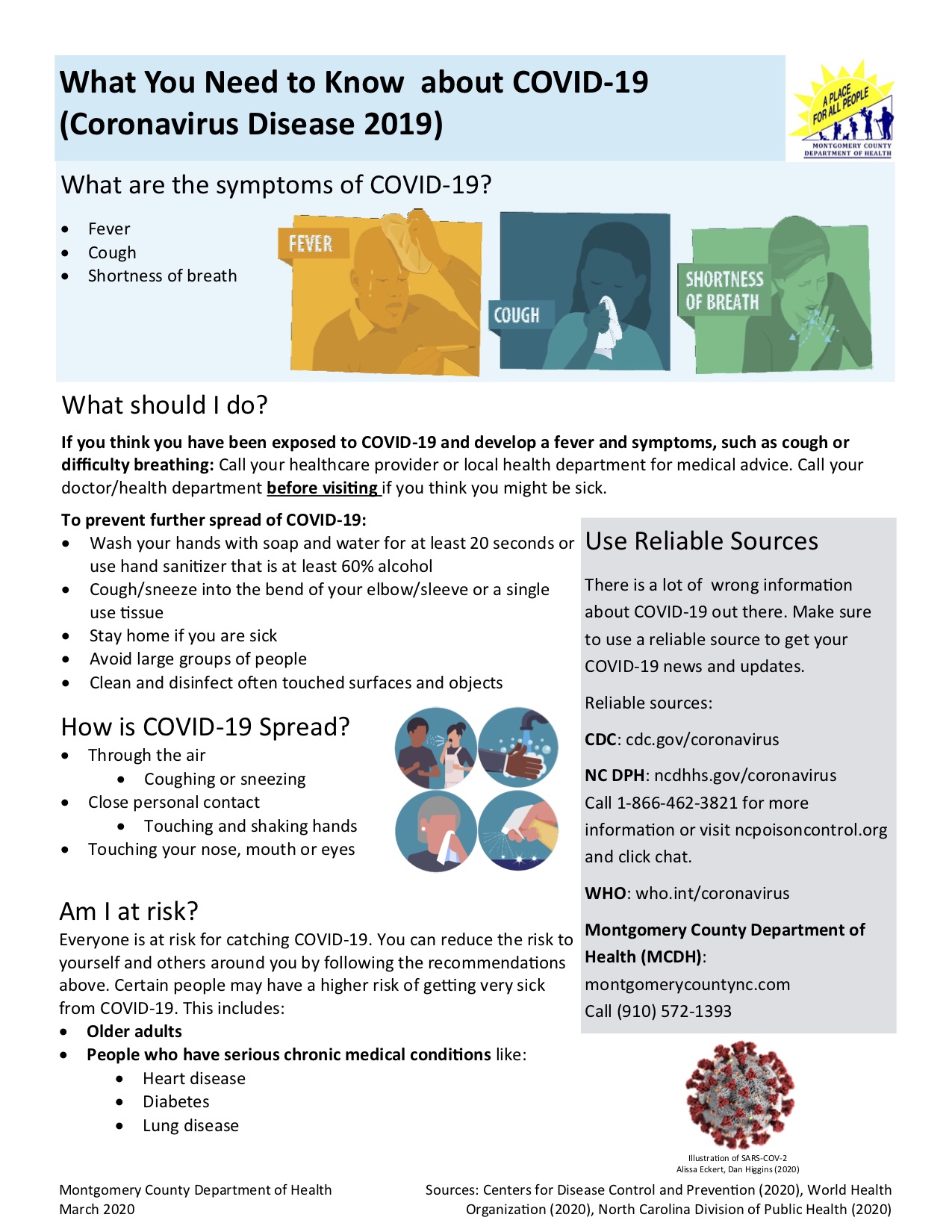 ---
Case Updates
U.S. COVID-19 case updates can be found from the CDC and NC case updates are available from NC DHHS.
Rolling updates on COVID-19 from the WHO can be found here.
---
Additional Information
More information is also available on the NC DPH novel coronavirus website, the CDC's website, and from the World Health Organization. NC State Government has also created a website with COVID-19 information from across state government.
Johns Hopkins CSSE has developed a COVID-19 Map with information on confirmed cases worldwide.
Common COVID-19 myths.
---