For information on the Coronavirus Disease 2019 (COVID-19), please visit the Coronavirus section under Health Info.
COVID Vaccine Information Available Here
---
North Carolina Transitions to Phase 3 - Safer at Home

On Friday, October 2, 2020, North Carolina moved into Safer at Home Phase 3 of easing COVID-19 restrictions. This order still encourages social distancing and using the 3 W's, while also allowing more businesses to begin reopening with limited capacity. More information on changes between phases is available here.
More information is available in the Frequently Asked Questions and a general overview of each phase can be found here. Executive Order.
---
What to do if you think you might have COVID-19



Click here for what to do if you feel sick
If you had close contact (closer than 6ft for at least 10 minutes) with someone confirmed to have COVID-19, while they were having symptoms:

You should monitor your temperature daily for 14 days even if you don't have any symptoms.

If you develop symptoms (fever of 100.4 or higher, cough, difficulty breathing, chest discomfort, altered thinking, or cyanosis):


Stay home and isolate yourself until:

At least 10 days have passed since your symptoms began, AND
At least 72 hours have passed without symptoms (without use of fever-reducing medication)

If you develop severe symptoms(shortness of breath, difficulty breathing, chest discomfort, altered thinking, or cyanosis):

Call your healthcare provider/doctor for next steps
If you are having a medical emergency, call 911

If you are in a high risk group (people age 65 or older, people living in a nursing home or long-term care facility, people with preexisting conditions or weakened immune systems, and pregnant women) and you are experiencing symptoms or have been in close contact with a confirmed case of COVID-19:

Contact your healthcare provider/doctor
---
Important Info on COVID-19

Montgomery County Department of Health Press Release - March 24, 2020 - Montgomery County Identifies Two Additional Cases of COVID-19
Montgomery County Department of Health Press Release - March 21, 2020 - Montgomery County Identifies First Case of Novel Coronavirus (COVID-19)

Governor Cooper Issued an Executive Order closing K-12 public schools and banning gatherings of more than 50 people. More info in the NC DHHS Press Release.

Letter from Montgomery County Health Director, Mary Perez, to community and faith-based organizations regarding COVID-19.
---
Advice for the public from the World Health Organization.
5 Steps to Help Stop Coronavirus:
Hands: Wash them Often

Elbow:

Cough into it

Face

: Don't touch it

Space:

Keep safe distance

Home

: Stay if you can

The steps to preventing coronavirus transmission are similar to the steps to preventing other respiratory illnesses, like the flu. These include:
Wash hands frequently with soap and water, and for at least 20 seconds each time.
Avoid touching your eyes, nose and mouth with unwashed hands.
Avoid close contact with people who are ill.
Cover your mouth and nose with a tissue when you cough or sneeze.
Do not reuse tissue after coughing, sneezing, or blowing your nose.
Clean and disinfect surfaces that are frequently touched.
People who have questions or concerns related to COVID-19 can call 1-866-462-3821 for more information. Press 1 for English or to ask for a language interpreter. Spanish speakers should press 2. To submit questions online, go to www.ncpoisoncontrol.org and select "Chat." In the event of an emergency, please call 9-1-1.
See
here
for more information from the WHO on potential Coronavirus scams.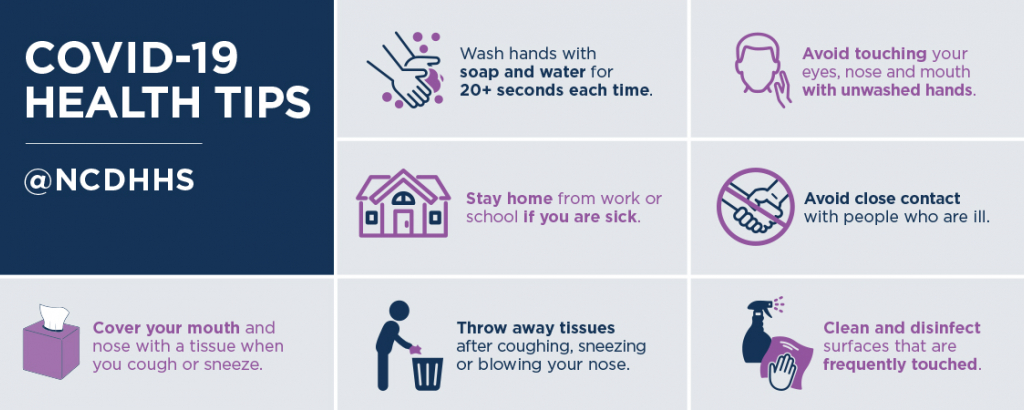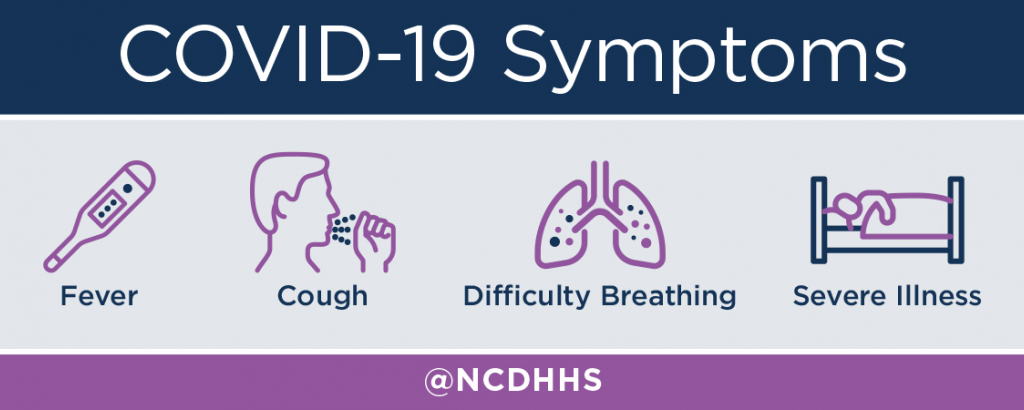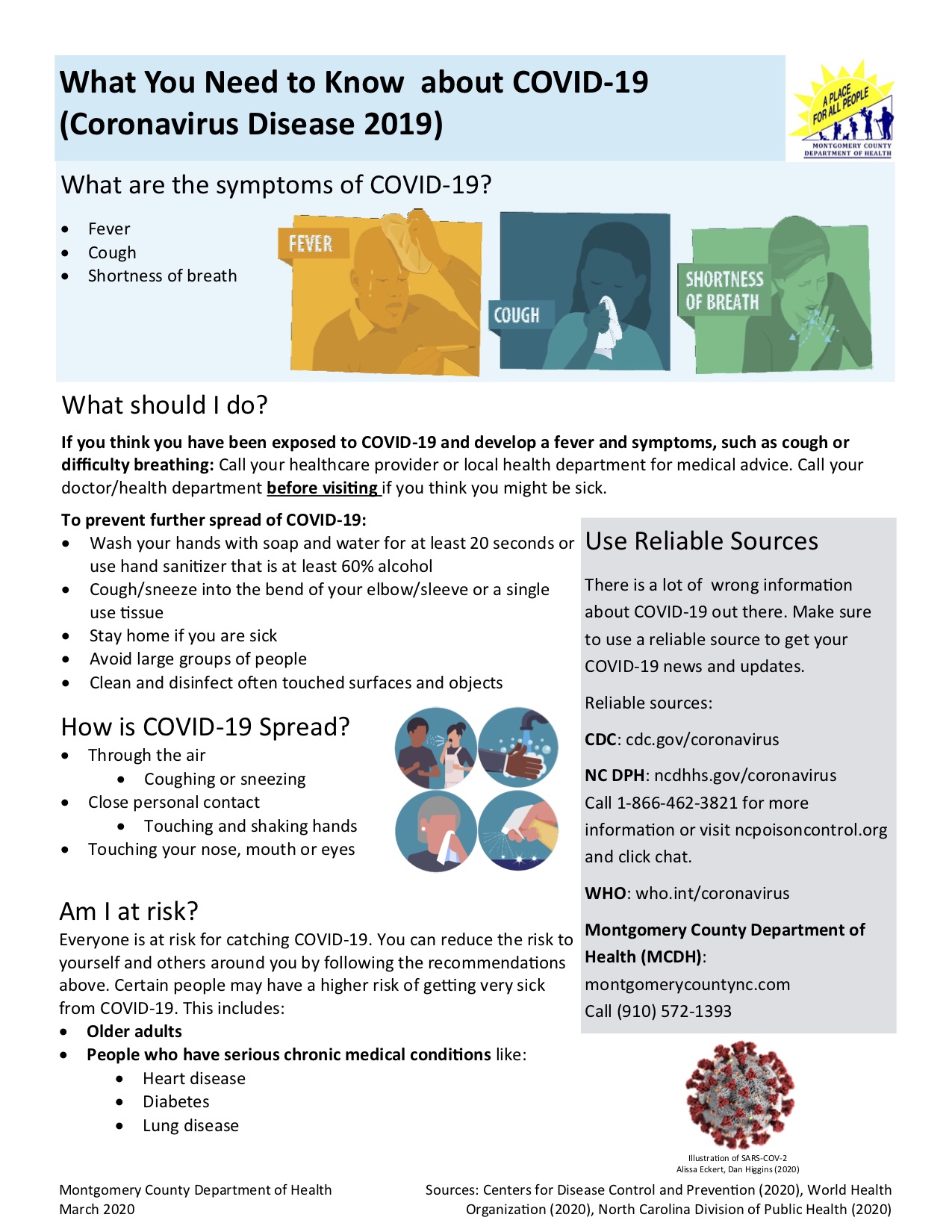 ---
Welcome to Montgomery County Department of Health.
On behalf of the Montgomery County Department of Health, I would like to personally welcome you to our agency and encourage you to take advantage of the many services we provide.
In our department, we use our core values of Integrity, Quality, Exceptional Service, Collaboration and Accountability to create an atmosphere of service delivery that will exceed your expectations.
We strive daily to meet the following guiding principles of our work: (1) Become accredited and maintain accreditation standards, (2) Utilize "best practice" in implementing public health initiatives, (3) Recruit, develop and retain a well-qualified staff, (4) Seek private and public funding sources to support and improve services, (5) Be fiscally responsible, (6) Improve residents' health outcomes and quality of life, (7) Prepare to respond to a public health emergency or disaster, and (8) Serve as a health information resource in the community.
Our goal is to improve personal and community health in Montgomery County. We look forward to partnering with you to turn that goal into a reality.
Mary Perez, MSN, RN
Montgomery County Health Director
---
Mission and Vision
Mission: The mission of the Montgomery County Health Department is to provide high-quality public health services to individuals and families in Montgomery County.
Vision: Reducing health disparities to improve personal and public health in Montgomery County through education, diagnosis, treatment and surveillance.
---
Ten Essential Public Health Services
The ten essential public health services relate to the three core functions of public health which are assessment, policy development and assurance.
The ten essentials are as follows:
Monitor health status to identify community health problems.
Diagnose and investigate health problems and health hazards in the community.
Inform, educate, and empower people about health issues.
Mobilize community partnerships to identify and solve health problems.
Develop policies and plans that support individual and community health efforts.
Enforce laws and regulations that protect health and ensure safety.
Evaluate effectiveness, accessibility and quality of personal and population-based health services.
Research for new insights and solutions to health problems.
Link people to needed personal health services and assure the provision of health care otherwise unavailable.
Assure a competent public health and personal health care workforce.
This institution is an Equal Opportunity Employer.




---
MONTGOMERY COUNTY HEALTH DEPARTMENT
NOTICE OF PRIVACY PRACTICES
PLEASE REVIEW THIS PRIVACY NOTICE CAREFULLY
The law requires us to protect your health information, give you this Notice, and follow the guidelines in this Notice. We may change the terms of this Notice in the future. We reserve to right to change this Notice and effective date covering all medical information that we maintain. If we make changes to the Notice we will:
Post the new Notice in our lobby.
Have copies of the new Notice available upon request from our Privacy Officer at (910) 572-1393 to obtain a copy of the current Notice. Please contact our Privacy Officer with any questions about our privacy policy, procedures or practices.
Post the new Notice on our website. (www.montgomerycountync.com)
The rest of this Notice will
Discuss how we may use and disclose medical information about you.
Explain your rights with respect to medical information about you.
Describe how and where you may file a privacy-related complaint.
We may use or disclose medical information about you without asking for your permission in order to provide health care, obtain payment for that health care, and operate our business efficiently.
Upon referral to another doctor or health care provider, we will give them health information about you.
Billing staff will use information to your designated contact or other health care providers in an emergency.
The Health Department may disclose information to stop or control the spread of communicable disease.
The legal system may request medical records and we must provide the specific information requested.
Under any circumstance other that those listed above (ie. fundraising, marketing, sale of protected health information (PHI), or use of disclosure of psychotherapy notes), we will ask for your written authorization before we use or disclose PHI about you. When you give us permission to use or share the information in your health records, you may cancel your permission at any time in writing. We will follow your instructions except where we have already shared your records by prior consent. You may not able to cancel your permission if it was given for you to be covered by insurance or in a legal matter.
It is our duty to notify individuals of a breach of Protected Health Information, (PHI).
You have the right to:
Review or obtain copies, with your written release, of your health record information. You may have to pay a reasonable cost-based fee for copies. You may request your medical information in electronic format, if available.
Request a restriction on use or disclosure of your PHI, for Treatment, Payment, or Health Care Operations or disclosures we make to someone who is involved in your care or the payment for your care, such as a family member or friend. We are not required to agree to these additional restrictions.
Receive a list of disclosures that we made of your health information for purposes other than treatment, payment or health care operations and certain other activities, for a period of up to six years prior to your request.
Receive communication regarding your health information by alternate means or to alternate locations.
Request a change, in writing, to the information in your health record. Any denial of your request will be in writing.
If you believe that your privacy rights have been violated or if you are dissatisfied with our privacy policies or procedures, you may file a compliant either with us or with the federal government, in writing within 180 days of when you learned the violation occurred. We will not take an action against you or change our treatment of you in any way if you file a complaint. You must name Montgomery county Health department and must describe the violation. You may bring your complaint to the Department at 217 S. Main St., Troy, or you can mail to the following address: Montgomery County Health Department, HIPAA Compliance Officer, 217 South Main Street, Troy, NC 27371. To file a complaint with the federal government, you may send your complaint to the following address: Office of the Secretary, US Department of Health and Human Services, 200 Independence Avenue SW, Washington, DC 20201.