Things to See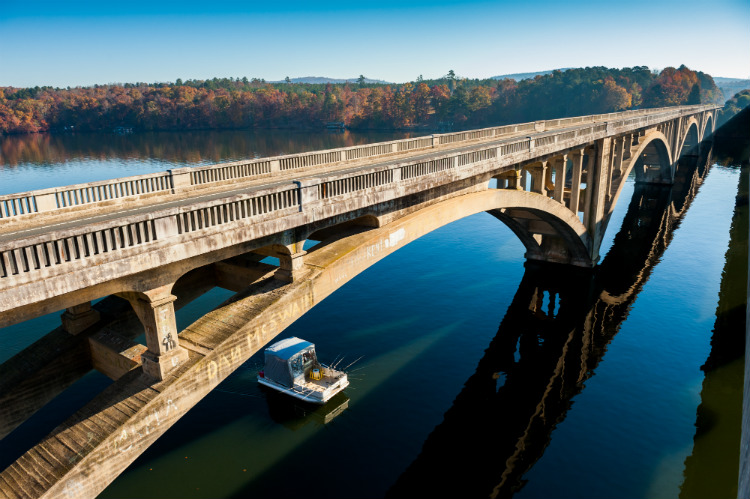 Historic Small Towns
Troy, Mt. Gilead, Star, Candor and Biscoe, all with distinctive histories and personalities, provide unique opportunities for dining and shopping.
Roy Maness Nature Preserve
The Roy Maness Nature Preserve and Greenway is currently under development and already includes a lake for fishing and over 6 miles of walking/hiking trails. Troy continues to add to the trail system.
Big Rocks
Also known as Nifty Rocks, this natural landmark is accessible by foot or on horseback, Big Rocks is located .6 miles up Tony Horse Trail from Moccasin Creek Road in the Badin Lake Recreation Area of the Uwharrie National Forest.
Kings Mountain Point
Located in the Badin Lake Recreation Area of the Uwharrie National Forest, this newly renovated day use area features a paved hiking trail that encircles the point, a fishing pier and three handicap accessible fishing platforms. Read more about Kings Mountain Point.
Low Water Bridge
Crossing the Uwharrie River on Low Water Bridge Road, which runs from Coggins Mine Road in Eldorado to Ophir Road. The site is a popular canoe-kayak access on the river. Lands on all four corners are owned and protected by the Landtrust for Central North Carolina.
Jumping Off Rock
Just east of the Uwharrie Trailhead on Flint Hill Road, this vista offers scenic views of Barnes Creek.
Town Creek Indian Mound
Visit Town Creek Indian Mound, a state historic site, for a glimpse of pre-Columbian life in the region. The visitor center contains interpretive exhibits, as well as audiovisual programs that bring alive a rich cultural heritage from the buried past. Self-guided tours of the rebuilt structures and mound and other group activities are available. Click here for more information.
Seagrove Pottery Area
Montgomery County's northeast corner is part of the Seagrove Pottery Area, where more than 100 potters are scattered through the countryside.
Sandhills Farms
From spring to fall, you'll find fresh bountiful crops of peaches, strawberries, blueberries, melons and a large variety of vegetables. Star Farmer's Market is open every Tuesday 3:00 p.m. - 6:00 p.m. and is located at the Star Heritage Center (right beside Star Town Hall) Troy Farmer's Market is open every Thursday 3:00 p.m. - 6:00 p.m. and is located in the Town of Troy parking lot behind the CashPoints ATM.
Music Barn
The Music Barn in Mt. Gilead features bluegrass and country music every Saturday night starting at 7:30 p.m. Admission is $5. Minimum age 13 years. Call 910.220.6426 to see who's playing or visit the website at www.mgmusicbarn.com.